A HEALTHY & WONDERFUL FAMILY EXPERIENCE!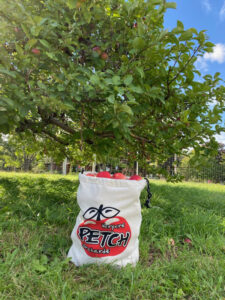 Come harvest time, each week different apple varieties mature. If you are looking for cooking apples, or wish to pick the best variety of eating apple, we recommend that you consult the chart on our APPLES page, to check when the apples of your choice come to maturity. We grow 24 varieties, including rare heirloom apples.
All you have to do is purchase a bag at our shop and go picking. It's that simple. Stroll through our acres of apple trees: rows and rows of apples to choose from. Consult the list in the right side bar (or bottom of the page if you are viewing the site on your phone) to see what is currently available.
Bring your family and friends to meet our family and enjoy a day of wholesome country activities.
Come pick the health that grows on our trees.
Unfortunately due to extremely cold weather during blossom time:
There will be no plums to pick or purchase in our shop this year
No pears to pick, there will be a limited quantity in shop to purchase
Some varieties of apples will not be available for picking this year
Please consult our list to see what is available in shop and for picking